Camping
The Great Outdoors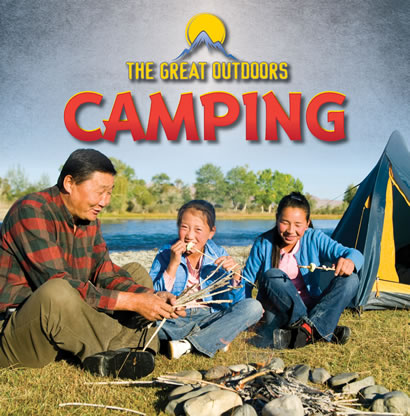 When a person sleeps under the stars, away from city lights and noises, the world seems so much larger. Readers will discover the many benefits of camping and learn about outdoor skills, including observing different kinds of wildlife and cooking a meal over a fire. They will also read about a variety of equipment used for camping such as tents and sleeping bags. Readers will be prepared, and excited, for their own outdoor adventure--even if it takes place in their backyard.
* Reviews *
Series review: The Great Outdoors The Great Outdoors set is a fantastic introduction to many popular outdoor activities, with titles about Rock Climbing, Camping, Hunting, Fishing, Caving, and Kayaking/Rafting. Each title in the series features attractive photos, a glossary of terms, tips, informative captions, and factoids. Do you want to learn how to do an Eskimo roll in a kayak? Learn the history of the smores recipe? Debate the pros and cons of hunting? See what a mineral formation known as a gypsum flower looks like? Learn which lure or bait to use for different fish? Its all here in this series. Mackin Books in Bloom Series review: The Great Outdoors Though simply written, these guides offer cogent information and instructions about outdoor activities. All volumes are illustrated with captioned color photos and most have value-adding features, such as a detailed account of how caves form in Caving and a page on overfishing issues in Fishing. School Library Journal
Book review: Camping
Illustrated with crisp colorful photographs, this book tells you all you need to know about how to camp, where to camp, and what to do while youre camping. It is full of great information that will make your camping trip safe and fun. This book would be great to use as part of a procedural writing activity. Different groups of students could take different parts of the book )e.g., plan your trip, get the gear, etc.) and write a how-t about their part to share with the class.
-S. Buckles, Tarver Rendon ES
Level
Points
2-3
4.2