Great Guinea Pigs
Pet Corner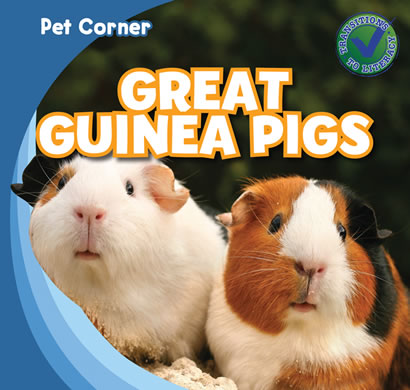 The answers to how guinea pigs play, what they eat, why they need to chew on things, and many more guinea pig facts are found in this book. Beginning readers discover what they need to do to keep guinea pigs as pets, including what to feed them and where to let them live. They also learn fascinating facts about these furry animals through accessible text and bright photographs.
* Reviews *
Book review: Great Guinea Pigs
The bold and colorful photographs used in this book are sure to attract the attention of young readers. Separating the photographs with a white text page draws the eye even more to the beauty in the photographs. The text is simple, in large font, and accurately relates to the photographs which make this book very easy to read and follow. Having a table of contents, words to know, and index also allows readers to become familiar with these features at a young age.
Ann Sopczynski, Baldwin Borough Public Library
Level
Points
K-2
0.9