Trolls
Graphic Mythical Creatures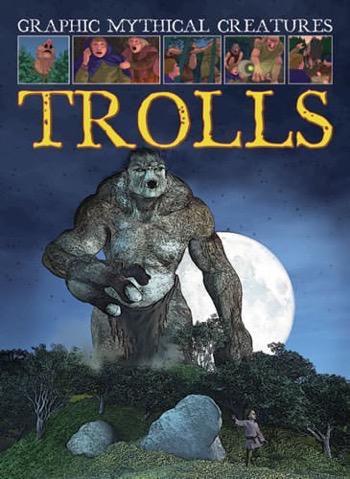 Who are the trolls of Hedale Woods, and how did two brothers manage to win their treasure? Readers find the answers to these questions and many more in this volume that addresses all things trolls. Told in the popular style of a graphic novel, the story of the Hedale Woods trolls incorporates accessible text and engaging drawings to excite reluctant readers. In addition to the featured tale, fun facts introduce readers to famous trolls from folktales around the world. From mountain trolls to those that stalk the lowlands, readers come face-to-face with some of the creepiest mythical creatures ever imagined.
* Reviews *
Series review: Graphic Mythical Creatures
Mythical creatures and legendary monsters fill the pages of these short stories with excitement and mystery. The storyline at times borders on humor, while historical background and photos are provided at the beginning of each book. The illustrations are similar throughout and lure students who love the thrill of exaggerated tall tales. Dragons and Werewolves provide the right combination for high interest and scary satisfaction. Color pictures of detailed mystical creatures will entertain students who are visual learners. This series will be popular for graphic readers and also appeal to the most reluctant reader.
- Library Media Connection
Level
Points
3
3.6